Hi everyone! I'm back again with a selection of the best true wireless sports earbuds you can get today on the market. I'm going to talk about specifications and all the technical details but maybe, more importantly, I'm also going to share my experience with you so you might get a better idea. What to expect from each of these buds during exercise or during casual day-to-day use. So let's get started.
So to kick things off I know a lot of you are wondering which one of these buds is my personal favorite. So the first one in our list is:
1) Beats fit pro
Strictly in alphabetical order, the first one to talk about is the beats fit pro. Comfort is good and the fit is very secure too. Interesting fact that I got much more of a vacuum effect with the beat studio buds. But the fit pro feels just as secure.
The buds are ipx4 rated only which is rather below average for sports earbuds but after a couple of days and with a few workouts, I can safely say that the buds are more than okay to handle some sweat as they are quite solidly built. The carry case is not my favorite though. It feels and looks cheap. It's not compact enough. The lid has quite a play when closed and there is no wireless charging support.
But we have the same USB Type-c port as on all the other cases. The total battery life can be 24 hours with a & c on and the buds can last up to 6 hours. If we turn off a & c it can go up to 7 hours which also adds a couple of hours to the total playtime to.
It's not a bad performance at all. It is the second-best actually after the JBL and the Jabra in terms of total battery life. Five minutes of fast fueling can give the body enough juice for an hour of use which is just about the same as what most other buds can do.
2) Bose Soundsport Earbuds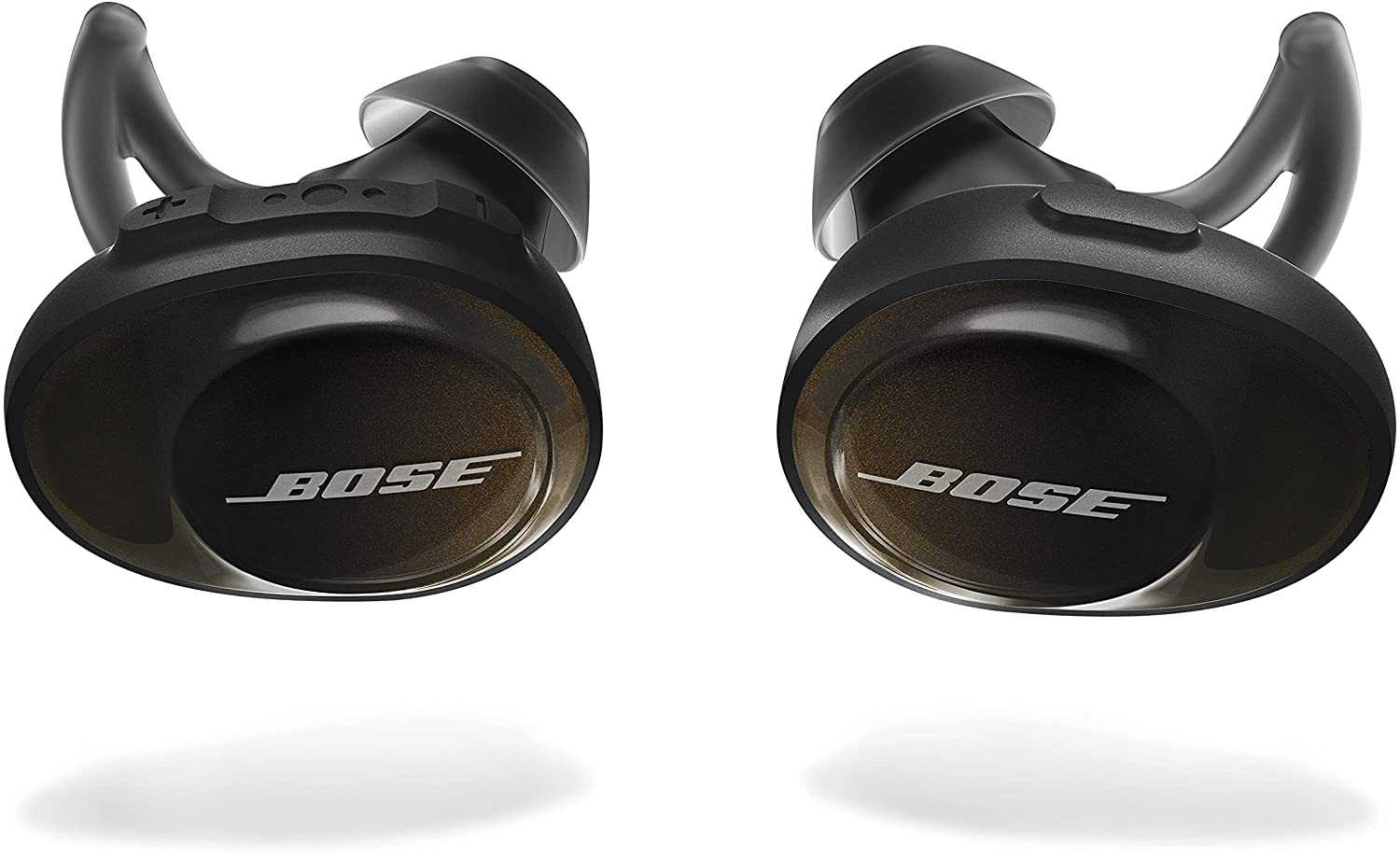 Next up is one of my top five buds from last year the Bose Sports Earbuds. Both didn't come out with a new model this year but they kept improving the functionality of their sports earbuds through firmware updates. Still, these guys are not going to win any best features award. But that's not why I like them anyway is there sound which is still hard to beat in my opinion but more about that in a minute.
BOSE gives us three sets of these super-soft integrated ear tips and wings in the box. And even though the buds are not the smallest or lightest. I find them the most comfortable. They also sit securely in my ears. But you won't get too much of passive noise isolation. And this is the only model in this comparison which has no active noise canceling at all.
The ipx4 rating is not the best you can get either, but that's still enough to protect the buds from sweat and splashes. The buds will last about 5 hours with one charge and the total playtime is only 15 hours which is kind of ridiculous given how much bigger the case is than the others. And the case cannot even be charged wirelessly but I like the lock on the lid which can only be opened by pressing the button on the front.
The BOSE case offers a 15 minutes quick charge which can give you up to two hours of use with the buds which is more than you get from the others. So it can make up for the poor battery life sort of. And even though these buds have been out for quite a while now.
3) Jabra Elite 7 Active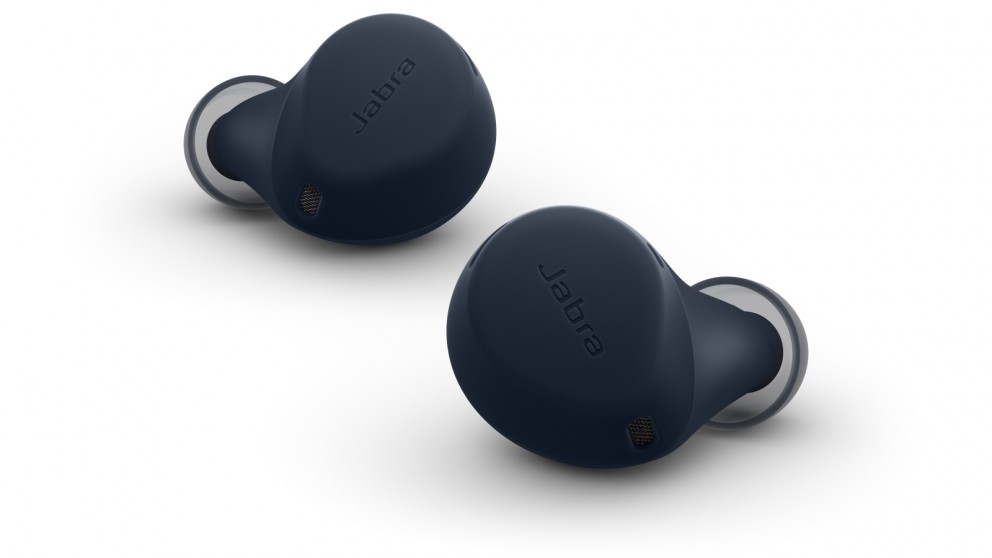 Onto the Jabra Elite 7 Active they have a liquid silicone rubber coating and even if these buds are the only ones in this test that come without any ear wings or arch support I would probably call them the most secure in my ears. They sit deep in my ears giving me not only a secure fit but an outstanding level of passive noise isolation and a great level of comfort as well. We get an ip57 rating, which makes them not only fully waterproof but they are also protected against dust ingress to a certain extent. But I have to remind you that even though some of these sports earbuds are fully waterproof.
Neither of them can be used for swimming as water blocks or radio signals bluetooth included. Back to the Jabra, their case is smaller than the others but it's very well built. It has wireless charging 30 hours of total battery life and the fast charge feature which can provide the buds with enough power to use them for an hour after only 5 minutes of charging.
The buds themselves can run for up to 8 hours on a full charge with AMC turned on. If I had to choose I would say the design of both the buds and the case are my personal favorites due to their compact size and these are one of the cheaper ones of the group as well.
4) Jaybird Vista 2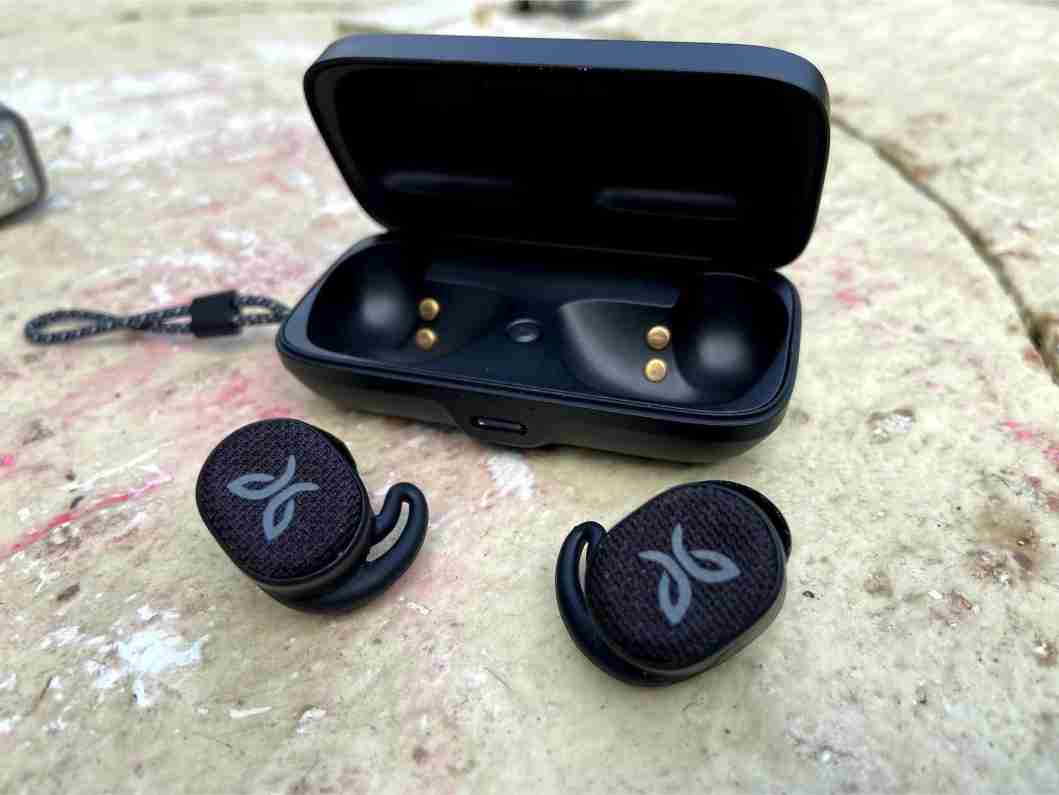 Moving on to the Jaybird Vista 2. These were my most awaited sports earbuds of 2021 as I loved the original vista so so much and thankfully jaybird only improved things that needed to be improved and left most things that worked perfectly well already unchanged. So it's the same shape, same size, same ear tips with integrated wings which you get three sets of in the box the buds.
Weight is around 6.6 grams each which makes them a fraction heavier than the original but the fit is still very secure and the comfort is first class too. The ip68 rating means full protection against dust and water but jaybird simply call their buds earth proof.
It is the only one here today with an ip54 rating of its own. So this is a small case but a tough one too. And a few of the upgrades we got with the second-gen model where the wireless charging support and the improved battery life now we have 24 hours with ANC turned off. And 18 hours with ANC on. The buds can last up to 8 or 6 hours respectively and 5 minutes of quick charging can also give you an extra hour of use.
5) JBL Reflect Flow Pro
And the JBL Reflect Flow Pro are the last buds we have in this test today. Their 10 hours of single charge playtime is the best with ANC turned off and you can still get 8 hours of use out of the buds if you turn on ANC. Note that the active noise canceling does much at all but we get back to it later in the Article.
So the buds have good battery life and the case offers 30 hours of use in total as well. But big batteries mean big size too. Both the buds and the case are large and kind of heavy. The earbuds coming at around 7.3 grams each which put them on the top of the list which probably is the only list you are supposed to be at the bottom of if you want to succeed in the sports earbuds.
And the heavier than average weight translates into a less than ideal comfort and fit in mires. I mean the fit is still tight enough for most exercises including running, but the long-term comfort suffers a bit in my ears. But again the fit is tight and that's what matters the most during a workout as short-term comfort is secondary in my opinion.
You know! no pain no gain. But joking aside comfort is not that bad at all and the JBL buds got the same ip68 rating as the Jaybird Vista 2 and right to the top when it comes to durability and ruggedness. Their case is also very well built even though it's quite a chunky one.
This case is the only one besides the Jaybird with a little loop on it. Which you can use to hook it onto your gym bag or running bag or whatever you think you should hook it onto. The large case comes with wireless charging support and again the best battery life overall. So size does matter at all.
Connections
And after all the general description of each bud. Let's see some specific features and compare the sports earbuds starting with their wireless connection. The only buds that run Bluetooth version 5.2 is the Jabra elite 7 active while the BOSE sports earbuds come with 5.1 and all the rest is equipped with 5.0 version.
All sports earbuds support the SBC and the AAC audio codecs only. No higher bitrate options to be found anywhere across the board. In general connecting to either android or ios devices is quick and easy.
The beats fit pro comes with an apple h1 chip inside and that makes it the best option for iPhone users with exclusive features such as automatic switching audio sharing or hands-free Siri activation. On android however neither of these functions are available with the beats. But again in general all of the buds perform well in terms of pairing and signal stability regardless of what phone you have.
And while that's the case let me have a few more comments on this matter. First the vista 2 has the weakest signal. So the range you can get with the jaybird buds is the most limited and that can affect the use of the buds in a crowded gym. However, running with my phone tucked away in a pocket or in a running bed gave me no signal dropouts with any of the buds.
And second there is this hissing noise I found to be constantly present in the left bud on one of my samples I got from JABRA but the same issue seemed to be non-existent on another pair of elite seven actives I bought for myself.
Third the only sports earbuds that cannot be used independently from each other are the BOSE. While all the others support single bud mode. And finally, the Beats fit pro is the only one that supports multi-point use which they call automatic switching but it only works within the apple ecosystem thanks to the h1 chip.
There might be a software update coming for the JABRA with multi-point use later on. But they don't have that yet as of writing this article and I don't even think that there is such an option for the rest of the buds at all. On to latency watching movie gets the green light from all the five buds as I experienced no obvious lip-sync issues with any of them.
And for the first time ever I did some not so scientific latency tests for all the gamers out there. Well not sure if I did everything correctly but my measurements kind of confirmed my experience with gaming so the two best buds are the BEATS and the JAYBIRD.
While the first is the JABRA with the other two somewhere in between. But again I wouldn't put too much trust in my words when it comes to gaming as I'm neither hardcore gamer nor am I a scientist. You know I would rather take any of the buds and run a few case with them and share that experience with you.
Controls
In terms of controls on the sports earbuds themselves, each manufacturer has a slightly different approach. BOSE and JBL used touch-sensitive interfaces while JABRA and BEATS decided to put actual physical buttons on their buds and it was only JAYBIRD who realized that you can combine the physical buttons with the touch controls. What all these buds have in common is that you can manage your phone calls from the buds.
They all have a smart sensor that can enable automatic play pause. Strangely enough both have such a sensor only on the right earbud while all the others have smart sensors on both sides. When the BOSE sports earbuds came out in 2020 they had very limited functionality. But they got some major upgrades since their launch and now you can control play, pause, volume and your voice assistant.
But you can either skip to the next track or back to the previous one only as there is only one single tapping action available on the left bud and that's not even activated by default you have to go into the app to turn it on. The touchpads work okay as they register to tap with a high enough accuracy but their functionality is still one of the worst. The next buds with touch controls are the Reflect flow pro. You have access to basically all functions through their touchpads and you can have these different groups of functions set up for playback, volume, ambient sound and your voice assistant.
But you can only have two of these activated at the same time and you cannot select individual touch commands either. So, if you want to control your tracks and volume you will lose control over the ambient modes. But with the JBL buds you can summon both the google assistant and amazon Alexa hands-free so at least there is that. Next up are the Beats fit pro and their physical buttons which work okay as in they are easy enough to press with nice feedback.
But similarly to what I experienced with the beats studio buds, you can accidentally press the buttons when putting the buds in or taking them out from your ears. As far as the available functions go you can use them to control play, pause and track forward or backward. But if you want to control volume with the press and hold action then you have to give up ambient mode controls and voice assistant controls.
The beats buds work hands-free with Siri but other voice assistants will not be available from the fit pro if you decide to go with the volume controls on an android device.
The next pair of sports earbuds that have tactile buttons are the Jabra elite 7 active. The buttons work perfectly fine with short reaction times and full functionality. And most tapping actions are remappable in the Jabra sound plus step two with the exception of the press and hold which is fixed to control the volume.
But you can get all your controls such as play, pause tracks ambient modes and of course volume all at the same time. Amazon Alexa or the google assistant can work hands-free too after setting it up in the app. Even though these buds sit quite deep in my ears. I don't have to apply too much pressure when pressing the buttons. So it does not make using the controls uncomfortable at all.
And also the physical buttons work in all environments and under all conditions which make them a better choice for most physical activities than touch controls in my opinion. But just in case jaybird decided to give you both options on the vista 2. You can control play, pause, tracks and ambient modes. But in order to gain volume controls you have to give up the voice assistant activation and there is no hands-free option either.
It's a minor issue in my eyes but you might find it a bigger deal than I do. The buttons work okay even though they require a little bit more force to press them which puts them at a disadvantage compared to the Jabra which are much more comfortable to use. Especially in the long run both literally and metaphorically speaking.
So, if I were to rank the buds regarding their controls I would put the Jabra elite 7 active on the top of the podium followed by the Jaybird and the Beats. BOSE and JBL however both lose some scores here due to their limited touch control functionality.
Apps & Features
And that ranking will not change that much when it comes to the companion apps and their features either. Well maybe the JBL can step up on the podium replacing the BEATS but let's see what each of the smartphone apps can do.
Starting with the BOSE well not much other than the limited contrary mapping options we have an autoplay pose switch and since the latest firmware update now there is an eq as well with four presets and custom settings. It's not the most sophisticated eq ever. But maybe the BOSE are the ones that require the least eq because they sound really good by default.
You also get user guides and firmware upgrades in the app but that applies to all apps today anyway. As I said the beats fit pro have tight connections with ios which means more features but it doesn't really mean more settings or custom options when connected to either an iPhone or an iPad. Regardless of which platform you use all you get is some basic ANC settings, the custom press and hold control settings an ear tip fit test and the autoplay pose switch.
On ios you also get the spatial audio feature with dynamic head tracking and some built-in eq presets. Next up is the JBL headphones app with its well thought out structure and a good list of features such as ANC settings, eq with both presets and limitless custom options, touch control settings, an auto-off timer, a play pose switch settings for your voice assistant, a tip fit test and the find my buds feature which makes the buds beep loudly so you can locate them easily.
It's all great but in the Jaybird app you get even more flexible ANC and bottom control settings. You also get a map-based find my buds feature instead of the beeping one in the JBL app and this time you get a chance to locate the case as well not just the buds themselves.
There is no auto off timer here but you get an autoplay post switch and there are the eq settings which are my personal favorites of them all you can not only choose from multiple presets and create your own sound profiles but you can also share them with other jaybird users and you can download their settings and use or even tweak those too. it can be a fun way of exploring different zone signatures.
But not even this comprehensive list of functions and settings can make the Jaybird app good enough to compete with the best there is which is the Jabra sound plus app. We get an almost intimidating selection of features and next level of customization for the elite seven active. ANC settings check eq presets with custom profiles and the hearing test to tailor the sound to your ears check.
Custom control settings, find my buds, auto play post switch, voice assistant settings, sleep mode timer and tip fit test. I hope I was counting right and there is much much more.
If you think that it's just a formality to announce the Jabra sound plus sep as the clear winner of this test you are not wrong but there is one caveat and that's that I found this app the least stable of them all with more crashes than all the other apps together. So let's just say that while they offer the most features with Jaybird and JBL being closed second. I believe there is some work all of these companies have to do with their respective app so maybe a bit more than the others though.
Active Noise Cancelling
And now let's see how the sports earbuds rank in terms of active noise canceling performance. I did some tests including running and walking outside with heavy traffic around me sometimes with strong winds as well and I also ran a few tests sitting in front of my computer playing loud airplane cabin noise or some ambient chatter from a coffee shop, of course, I took all the buds to the gym as well to find out which one worked the best as far as keeping me in the zone.
So in my ears and during my tests I found that the beats fit pro wins by quite a margin ahead of the Jabra elite 7 active while the Jaybird finished third and the JBL came in fourth place. The BOSE sports earbuds do not even have ANC. So let's just forget about those for a second. Or maybe not because the lack of ANC and the poor passive noise isolation will probably make them less than ideal for gym use especially if there is loud music coming from the speakers. So keep that in mind.
But back to the A & C performance of the others the JBL is clearly the least effective of them all with only a basic level of noise canceling. To be fair though the less than perfect passive isolation in my ears probably contributes to the mediacore ANC performance so your mileage might vary. But that applies to all sports earbuds in general without a good seal you cannot expect to have great active noise canceling.
But back to the JBL there is only an ANC on-off switch in the app no custom settings whatsoever and even though the ANC itself is supposedly adaptive it does not feel like it's doing much at all. but we get both an ambient aware and the talk through mode and this latter one is unique in the sense when the talk-through mode is active your music gets pulled down so with all the ambient noise getting true you can actually have a conversation with someone while the earbuds are still in your ears.
With the jaybird you can find more settings and options in the app. The ANC itself is not as strong as on either the beats or the Jabra but you get a great surround sense mode which can be customized in terms of loudness and also you can select from three different wind noise filtering settings. It works well to a certain level I mean the wind noise filtering and it can even beat the Jabra in ambient mode but with ANC on wind noise sounds less distracting on the elite active. But the Jabra takes a huge leap in ANC performance and gives you much better isolation than the Jaybird or the JBL.
You get five different settings for both the ANC and the hear true mode so you can fine-tune the strength of each feature to your liking. Wind noise is handled well in most modes except for the strongest heat through mode where the vista 2 can outperform the elite 7 active. And wind noise is the only area where the elite 7 active can take points away from the beats as the lower profile job sports earbuds are less sensitive to the wind in general.
And there is the transparency mode which is more intense on the job row at its highest setting. but it's up to you whether you prefer this intense but customizable sound over the sort of muted but still the natural sound of the beats which does not give you any room for tweaking. I would pick the Jabra for transparency but the Beats fit pro wins the ANC performance with a plump.
Low frequency especially but also the high frequencies are blocked out more efficiently than on any of the other buds in this test. There are no settings in the app other than a simple switch for the three different modes but the ANC works very very well. I only wish we didn't have to choose between the volume and ambient mode controls on the buttons but that's another story.
Sound Quality
And after all, this let's discuss sound quality next. To keep things simple I ran all my tests with both ANC and eq turned off and starting with answering the ever so popular question of which one is the loudest I would say that it felt like the Jabra had a slight edge over the beats here with the Jaybird and the BOSE just a step behind while the JBL was clearly the last in terms of sheer volume.
But there were very minor differences only and again these results might reflect how much of a good seal I could get with each bud more than anything else. As for their base response the Elite 7 active can deliver the biggest punch and the most amount of low-frequency rumble but I personally prefer the slightly less intense but more accurate and snappy base of the BOSE and the Beats.
The Jaybird and the JBL are capable of delivering a touchless energy in the lower registers but that's still more than enough in most cases. But both the Jaybird and the JBL can step up on the ladder when it comes to mid-range clarity. And the Reflect flow pro actually makes It way straight to the top along with the Beats as their vocals sound more forward than on the other buds.
The Bose sports earbuds and the Jaybird has a bit warmer mid-range and vocals which I quite like personally. But the Elite 7 active performs badly in that regard with a recessed and compressed mid-range. That's where you pay the price for the too much bass I'm afraid.
But the Jabra sports earbuds can come back to the top again with their energetic and sparkling treble. That is if you like such a sound as I found it a bit too much of a good thing sometimes, especially at higher volumes.
If you want loads of high-frequency details but with less sibilance then your best bet is either the JBL or the Jaybird. If you want even more smoothness in the upper registers then choose the Bose or the Beats I found the sound stage the widest and instrument separation the best on the bose closely followed by the beats and the jaybird then comes the Jabra and the JBL.
so the Bose can deliver an extensive and well-balanced sound with a punchy bass, sweet mids and smooth highs which make them my personal favorite the beats fit pro can give you almost the same qualities with maybe a touch more forward midrange and the less spacious sound altogether.
The Jaybird vista 2 sounds a bit flat by default but everything is well balanced which gives you a good base for any eq and you can find one of the best eq settings in the jaybird f2 so that's a lucky combination there. The JBL buds might be lacking in the bass department but they can perform better in the mid-range and also in the treble regions and again the low-frequency response could be the victim of the less than ideal fit in my case.
And even though it's not something I would pick as a winning sound you can get the most amount of energy from the Jabra elite 7 active as far as bass and treble go. it's a typical v-shaped sound signature which might fit your workouts and musical taste the best but i leave it to you to decide which buds you prefer the most.
Please let me know in the comments if you have any preference or if you have a different experience with any of these buds as I'm always interested in hearing your opinion as well. and keep in mind that with eq all of these buds can be fine-tuned or even completely changed in terms of how they sound.
Open-Ear Alternatives
And even though I found these five sports earbuds to be the best of the best for most physical activities. Let me quickly mention a few alternatives just in case you might need something different. For starters here is the NAENKA Runner Pro. These are bone-conducting headphones which means that they create sound by resonating the cheekbone in front of your ears which then carries the sound into your inner ear bypassing your eardrums. So if for whatever reason you don't want or can't plug in your ears then these open-ear headphones are a must-have for you.
Road safety is also the best with these in my opinion. So if you are a cyclist then again you better have a look at them. And do you remember when I told you that neither of the buds we talk about today can be used in the water. Now the runner pro is the only exception as they are not only ip68 rated fully waterproof but they also have eight gigabytes of built-in storage along with an mp3 player on board. So you can take your favorite songs with you into the sea or the swimming pool making those long swim sessions a touch more interesting.
Their sound is not the best even by bone conduction standards. So you won't get a full-bodied base and too much high-frequency detail either but it's perfect for podcasts and youtube videos. If you want better sound while still keeping your ears free then I suggest you give the aftershocks aero packs ago. These are currently the best-sounding bone conduction headphones available. They lack the onboard storage and the mp3 player function but for runners and cyclists I can hardly imagine a better and safer solution.
Affordable Alternatives
And if you need traditional sports earbuds but you don't want to spend too much money on the best ones we just discussed. Then I have a few more affordable options for you.
First there is the JBL Reflect Mini NC which is basically the same as the reflect flow pro only with a few features missing.So if you don't need wireless charging and you are happy with the shorter but still decent enough battery life and you don't mind the downgrade from ip68 to ipx7. Then you can get your hands on the Mini NC for less than a hundred dollars these days.
My other favorite is the MIFO o5 gen 2 which are small low profile sports earbuds. But they are also ipx7 rated waterproof and they can give you a secure fit aptx support, 100 plus hours of total battery life, and all this comes in a unique but massive metal case which can also function as a power bank too. What you don't get is wireless charging app support and active noise cancellation but the extremely good passive isolation can some what make up for the lack of ANC.
There are also the Lypertek Pureplay z3 sports earbuds with an ipx7 rating 70 hours of total battery life wireless charging app support and ANC. And you can get all these for less than a hundred dollars but what actually made me put these buds on this list was the extremely tight fit I could get in my ears with them.
And last if you like the ear hook design then have a look at the Jlab earbuds epic air sport ANC buds. They usually cost around 100 but they tend to get serious discounts so you can get them for even less. And you get almost all the features you can imagine wireless charging, 70 hours of battery life, secure fit ip66 rating app, support built-in eq, and even if the ANC is not quite as effective as on some more expensive buds you still get tremendous value for your money.
Conclusion
It's time to wrap up this article. I know I made this bad joke earlier on about my absolute favorite buds but honestly, there is no such thing I could pick any of them and be happy with it for different reasons for the best fit, controls, bass and customization. I would get the Jabra elite 7 active. For the best comfort and general sound quality. I would buy the Bose sports earbuds. I would not hesitate and buy the Beats fit pro if I was an avid iPhone user. But their ANC is the best regardless of what phone you have.
Anyway, for toughness, good sound and comfort I would pick the Jaybird Vista 2 which also comes with a great app. And I would also be very happy with the Jbl reflect flow pro if ruggedness and battery life were my priorities. But your priorities and preferences probably are completely different than mine. Anyway so I'm not going to tell you which buds to buy.
All I can say is that if you need a pair of true wireless sports earbuds to be used in the gym or for any physical activity. You have to make sure you get something that fits your ears as good as possible as I believe it is one of the key features of any sport-specific sports earbuds.
Almost all sports earbuds out there even the cheaper ones come with some sort of an IP rating. These days most sports earbuds have some kind of noise canceling and they mostly sound decent enough as well. But the fit is crucial if you don't want your sports earbuds to budge during running or lifting because I can hardly imagine anything more distracting than having to re-adjust the buds in my ears every two minutes.
So, from that perspective the Jabra elite 7 active would be my first choice. Now maybe I actually picked a winner for you after all but even if I just told you which one works best for me it doesn't necessarily mean it's going to be the same for you. Of course I hope I could help you with all the information.
If you want to know about more amazing content related to the latest technologies click here